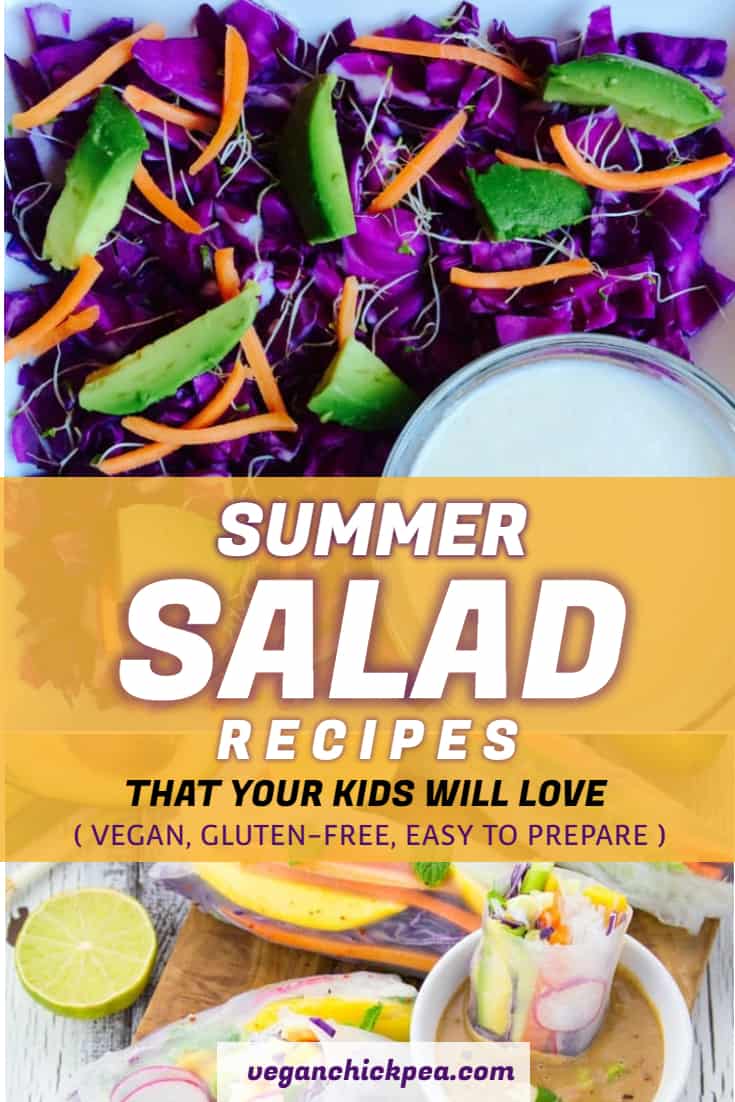 Everyone loves a good salad, especially during the scorching summer months, but let's admit it, our kids do not always appreciate the greens and nothing's worse than serving them a meal that will just leave them unsatisfied. There's something about the greens that is repelling for most kids so I pulled together five of my favorite summer salad recipes that your kids will love – all 100% vegan, gluten-free and easy-to-prepare.
While most vegan salads are more focused on the taste, these summer vegan salad recipes were also chosen for being visually appealing (the key to every kid's curiosity). With a variety of ingredients, these recipes will surely pique your kids' attention, and of course, their elusive appetite.
Naturally, garden-based recipes are highly nutritious and good in all sorts of reasons. Each of these salads is an entrée all on its own- so you can enjoy them as is, or you can also pair them with any meatless vegan mains, or with any add-ons such as avocado, quinoa, and sweet potato. You'll find a lot of vegan inspirations in this list so get your clipboards ready and enjoy these summer vegan salad recipes with your kids.
Summer Salad Recipes that your Kids will Love
If you love potatoes then this one's a keeper. This is a reimagined classic infused with Indian flavors. With the distinct curry flavor that your kids may be familiar with, this vegan summer bowl showcases amazing vegan flavors in a not-so intimidating bowl. A meal perfect for summer outdoor trips and picnics. Using a vegan mayo, this recipe is 100% vegan and gluten-free. Check the complete recipe here.
A light, refreshing and vibrant remake of the traditional cucumber salad with a hint of spice that will definitely spice up your palate. This Asian-inspired cuisine, Thai Cucumber Salad, is super fast and easy to make. A delightful beginner recipe to introduce your kids into vegan dishes, you can even try making this with them. Check out the complete recipe here and make sure to whip this quick snack up for your little ones.
If your kids are aversed to greens, then give them a different color. Surprise their tastebuds with this amazing salad recipe that you can make even when you don't have a lot of ingredients left in your pantry. This simple cabbage salad is packed with all the freshness of summer in one delightful bowl. With the tangy sesame dressing that balances out the flavors, even your kids will enjoy this summer salad. Recipe here.
If you are looking for something sweet to entice your kids to eat vegan then this one's the recipe for you. A colorful bowl of sweet summer corn with fresh avocado and tomatoes is the best to start every summer morning. You can check out the recipe here.
This one's an absolute treat. This salad is made with fresh vegetables, rice noodles, and of course with a kick of Thai chili to make the flavors a bit more interesting. Vegan, gluten-free, dairy-oil-nut free so that everyone can enjoy this bowl. Get the full recipe here.
Bonus Recipe!
A perfect vegan snack to quench the summer heat. These homemade rice paper rolls are packed with the sweetness of mangoes, the fresh taste of avocados and a spike of mint in a decadent peanut dip that your kids will absolutely enjoy. Oh, just skip the soy sauce and make sure to use organic peanut butter to make it gluten-free. Learn more about the details here.
I hope that with this list, it will be an easier scene in your household when it's time to serve your kids some refreshing salad for the summer. For more kid-friendly recipes, you may check this out.