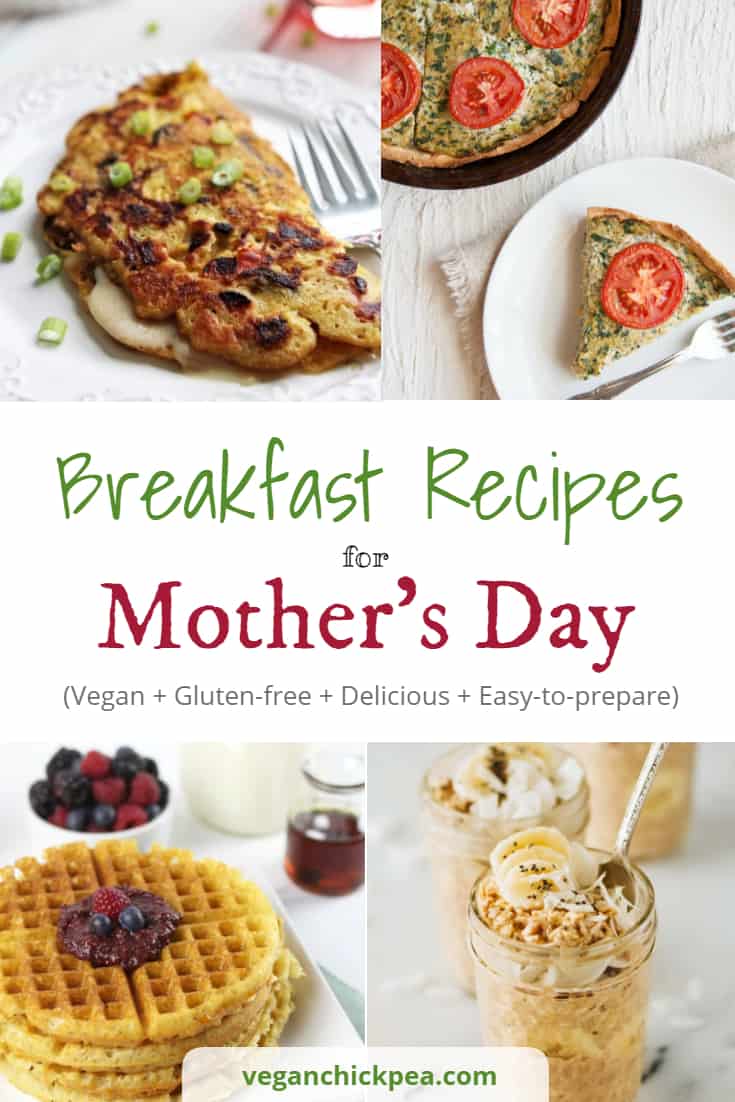 One of the greatest joys of a lot of mothers is to be able to prepare a good breakfast for her family every day. We have always been told that breakfast is the most important meal of the day, and our mothers really go that extra mile to ensure that our days are off to a good start. So now that Mother's day is right around the corner, it would be fitting to let the mothers in our lives have a well-earned day-off from this meticulously daily task, and let them feel our love and appreciation with a feel-good vegan breakfast. We gathered  7 Vegan breakfast recipes for Mother's day that are easy to prepare and will surely make your mother, the mother of your kids, or anyone, who you would like to thank on Mother's day, feel appreciated for all their hard work.
7 Vegan Breakfast Recipes for Mother's Day
Eggs are an important component of a good breakfast meal. But I'm sure you're wondering how vegans enjoy breakfast without one. Well, this eggless omelet is an excellent example of how. This is a classic recipe creatively reinvented for the vegan kitchen. It's vegan, gluten-free, soy-free and of course, perfect for a breakfast celebration. Needing just less than 20 minutes to prepare, it's also easy to make it more special by adding in vegan ingredients that your mom (or your wife) likes. I'm pretty sure your mom will appreciate your efforts in preparing this amazing meal. Check out the complete recipe here.
If you want to go make your breakfast surprise a little bit grander, why not try making a vegan quiche for her?  This savory Spinach and Broccoli Vegan Quiche is the ultimate vegan breakfast, that is made with tofu for that distinct creamy texture. You may also add nutritional yeast to give it that cheesy flavor, and miso paste and tamari for that savory flavor.  Full recipe here for your reference.
I love waffles, and so does my mom. This wonderful paleo, vegan, gluten-free, egg-free, and grain-free waffle recipe that will take you just 20 minutes to prepare. Seriously light and crispy on the outside but soft and fluffy on the inside, this here is the real crispy grain-free waffle deal. Just top it off with any fruit that you know she'll appreciate, or simply use it as your "bun" for that spread you know she loves. Recipe here.
This vegan, gluten-free, Snickerdoodles, made with banana, oat flour, apple sauce, and other delicious ingredients, are super simple to make and taste amazing. Light and fluffy, these sweet-tasting cookies will make Mother's Day off to a great start. Check out the full recipe here.
If you want to prepare something that will take you just around five minutes, then consider these overnight oats made with banana and coconuts to make it creamy and extra delicious. This is the perfect last minute breakfast meal for your mom if you're pressed for preparation time. This is 100% vegan, gluten-free, and dairy-free so you won't have to worry about a thing. Get the recipe here.
Have you ever tried breakfast bowls? If not then this is your chance to enjoy some with your mom.  This healthy Chocolate Quinoa Breakfast bowl is very easy to prepare. To make this day more extraordinary for her, let us combine two ingredients that are normally not prepared together – chocolate and quinoa. Aside from that, you may fill this bowl with amazing ingredients such as cherries, almonds, banana and of course, coconut to achieve that creamy texture and rich taste. Check out the recipe here.
It's not breakfast without pancakes on the table. This raspberry chia jam stuffed pancake is the ultimate healthy breakfast snack and also makes an incredibly impressive Mother's day breakfast that will be well-appreciated. Recipe here.
More of these round-ups here so make sure to leave a comment down below if you love this round-up. And to our unsung heroes, Happy Mother's Day!