Add this DIY Vegan Face Moisturizer with Essential Oils into your daily regimen for a homemade, cruelty free and customizable alternative to standard (and often toxic!) beauty products. Say goodbye to harsh chemicals and expensive skin care!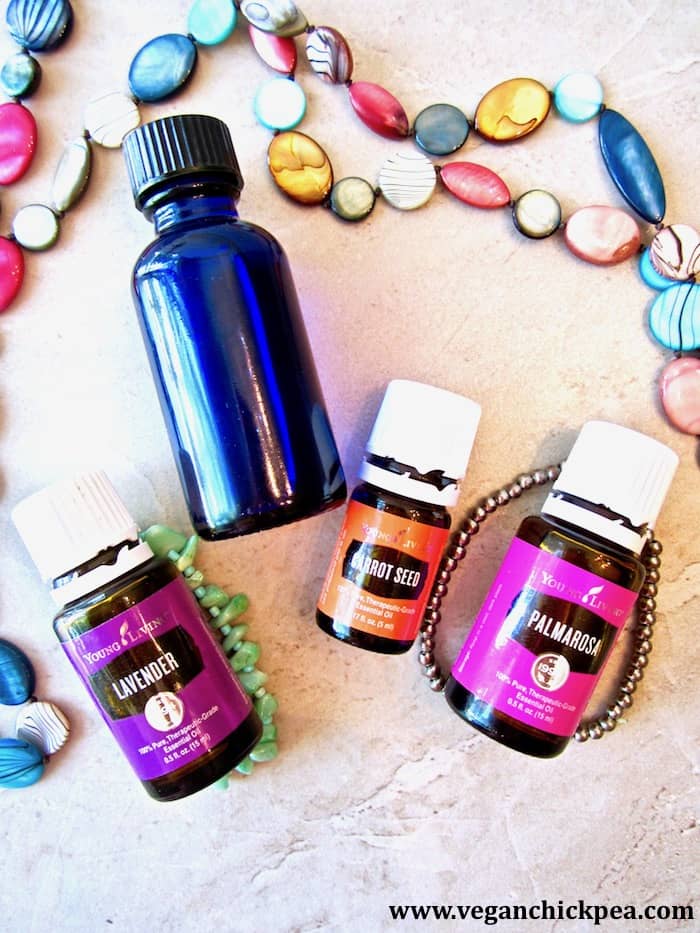 Do you know how many chemicals and animal tested products are lurking in your favorite beauty products? You'd be shocked to know what's on the shelves of the cosmetic and beauty aisles in just about every store. (Find out more here from the Environmental Working Group.)
While Vegan Chickpea is primarily centered around food, I feel it's important to also share about other lifestyle related topics, as being vegan reaches beyond just the food we eat. Importantly, the topic of beauty, cosmetic and toiletry products isn't only for vegans, but rather concerns all of us who strive to be healthy, ethically and environmentally conscious consumers.
After all, we use these types of products nearly EVERY DAY and yet – do you know what you're really putting on your body? Our skin is our biggest organ and it's just as important to put clean, nourishing products ONTO our skin as it is INTO our bodies with the foods we eat!
Many products labeled 'natural' still have chemicals in them, and the ones that don't can be quite costly. Even the FDA's website says that "the FDA has not defined the term 'natural' and has not established a regulatory definition for this term in cosmetic labeling". Yikes! Am I the only one who finds that unsettling?!
This doesn't even take into account the cruel animal testing that occurs in laboratories around the country (and the world) where the animals have no rights, no pain relief and typically are killed at the end of the process. I wont go into further detail here about animal testing; I find it upsetting and inhumane, and just knowing the basics is enough to inspire me to make a different decision about where I'm spending my money and what I'm contributing to on this planet!
So, what's a girl to do?
Why, take matters into her own hands and make a homemade moisturizer herself, of course!
---
RELATED: The Surprising Truth About Honey Bees, Sustainability & Veganism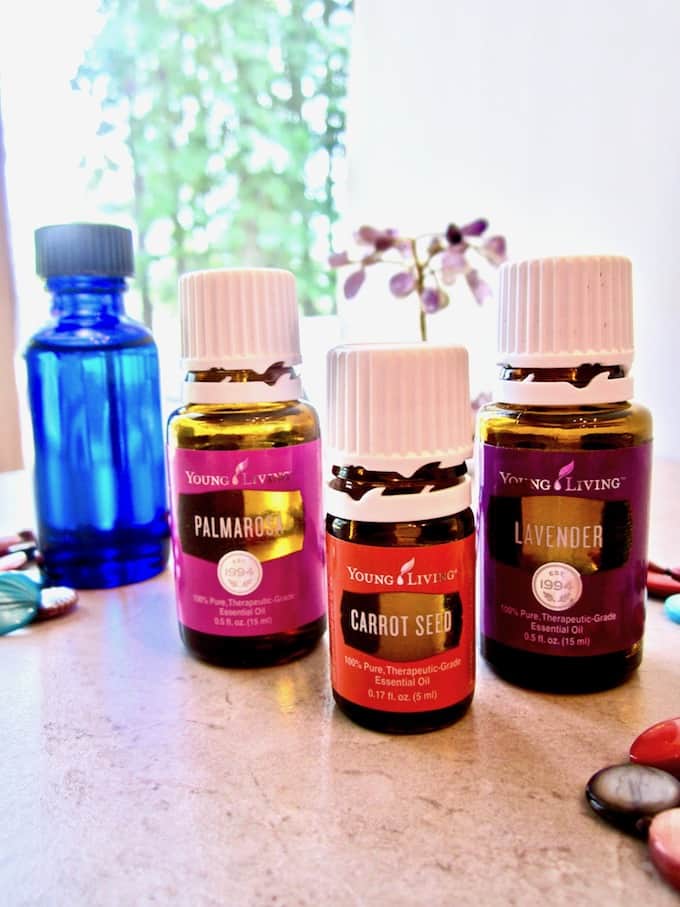 Thus: I've been working on transitioning all my beauty products to ones that are clean, nontoxic and cruelty free. The thing is though, trying to keep up a natural and inexpensive beauty regimen can sometimes feel like no easy feat. I recently started playing with essential oils to see if I could create my own DIY facial moisturizer at home.
The result?
Soft, smooth, healthy skin that smells good too! Plus, the oils are potent – a little goes a LONG way! – so even though you spend some money up front on the essential oils, you won't have to restock your bottles for quite awhile. I'm really excited about discovering how simple, enjoyable and affordable it is to play with and create DIY recipes using essential oils. They can also be diffused in your home to make it smell lovely, as well as in DIY cleaning products if you want to ditch the toxins and make your own alternatives on the cheap!
I shared this recipe last month with Jenny Melrose's readers on The Melrose Family, and now – I get to share it with you! (Thank you Jenny for the Young Living oils and having me as a guest contributor on your site!)
FULL DISCLOSURE: I am no expert on essential oils by any means, but I do know that they are all natural, healing and work wonders for skin care, DIY cleaning products and even adding to food if they are food grade oils. I'm sharing this based on my experience and invite you to do your own research and discover what methods and brands work for you!
Now, without further ado – here's a guide to making your own vegan face moisturizer with essential oils at home!

Vegan DIY Face Moisturizer with Essential Oils
Contrary to what you may be thinking, most oils are your friend – regardless of your skin type! Many beauty products used to use mineral oil, which we now know is a toxic ingredient for the skin that clogs pores and leads to breakouts, but most oils out there actually help keep your skin balanced and fight bacteria.
Many standard face cleansers, soaps and moisturizers on the market have chemicals that actually strip your skin of its natural oil, so your skin either gets really dry or tries to compensate by producing extra oil. Once you stop using those products and replace them with essential oils that naturally nourish, your skin will likely come into balance again and you'll get that luxurious, glowing skin you've always wanted!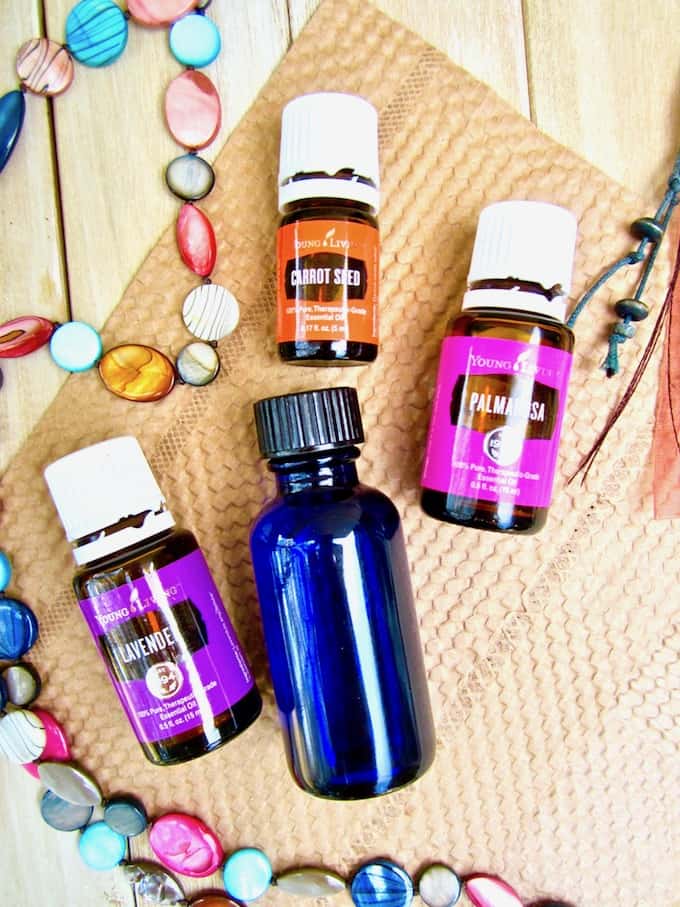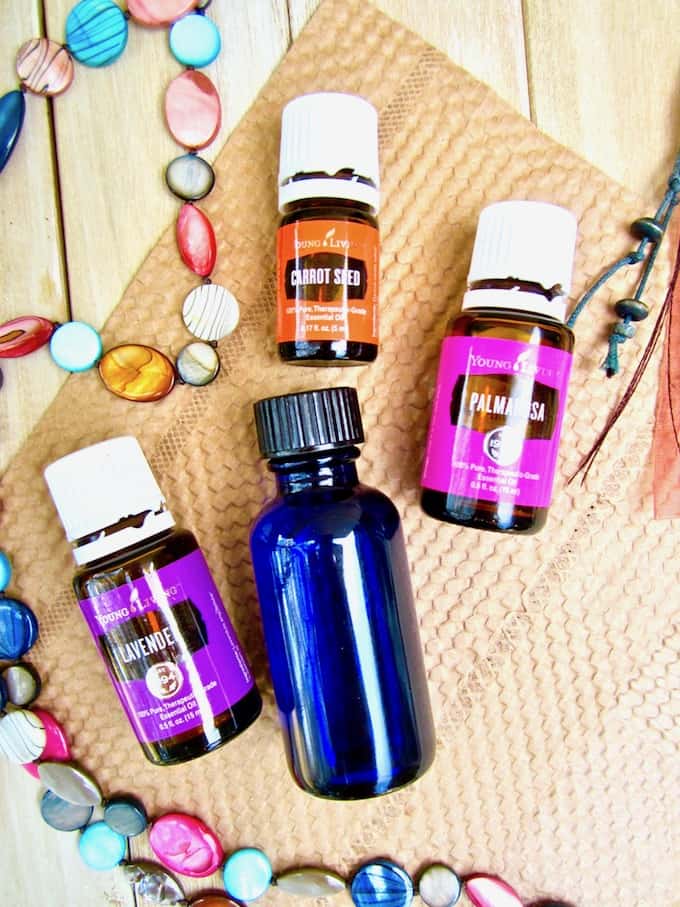 What Oils to Use?
The main ingredient in this recipe is called your 'base' or 'carrier' oil. Carrier oils come from the fatty portions of plants, nuts and seeds. There are many you can choose from, and you may want to experiment with a couple different ones and see what does well with your skin. Your options are:
You could just use your base oil on it's own, but combining it with essential oils – which are derived from the leaves, petals, stems, bark and roots of plants – add lovely scents and have extra nurturing and healing properties of their own.
For the essential oils, there are so many different ones to choose from to add to the base oil that it would be impossible to cover them all. I used the Young Living brand of oils and specifically a combination of lavender

and palmarosa

. Other popular scents are peppermint, chamomile, rosehip seed, geranium, frankincense, tea tree, lemongrass, clary sage and rosemary.  You can start with just one scent or mix multiple ones together, but I recommend just starting with one or two so you know which oils caused what result and get to know what you like.
Finally, I added just a few drops of the Young Living carrot seed oil, which adds extra healing and nourishment to the skin. Carrot seed

oil rejuvenates the cells, has high levels of antioxidants and a natural SPF of 35-40. This is completely optional and you can leave it out if you choose!  This is one of the best cruelty free face moisturizers I've created and I'd love to hear if you make it yourself.
How To Use The Moisturizer
1) Always apply to clean skin, with clean hands! If you apply to an unwashed face, the oil will seal in dirt, dust and any makeup still on your face. You can do this at night before bed, or in the morning before you add makeup or other topical products.
2) Add about 3 – 5 drops of the oil blend to your fingertips or palms. Rub your hands together and gently dab onto your face until the oil is absorbed.
I hope you love this DIY facial moisturizer with essential oils as much as I do!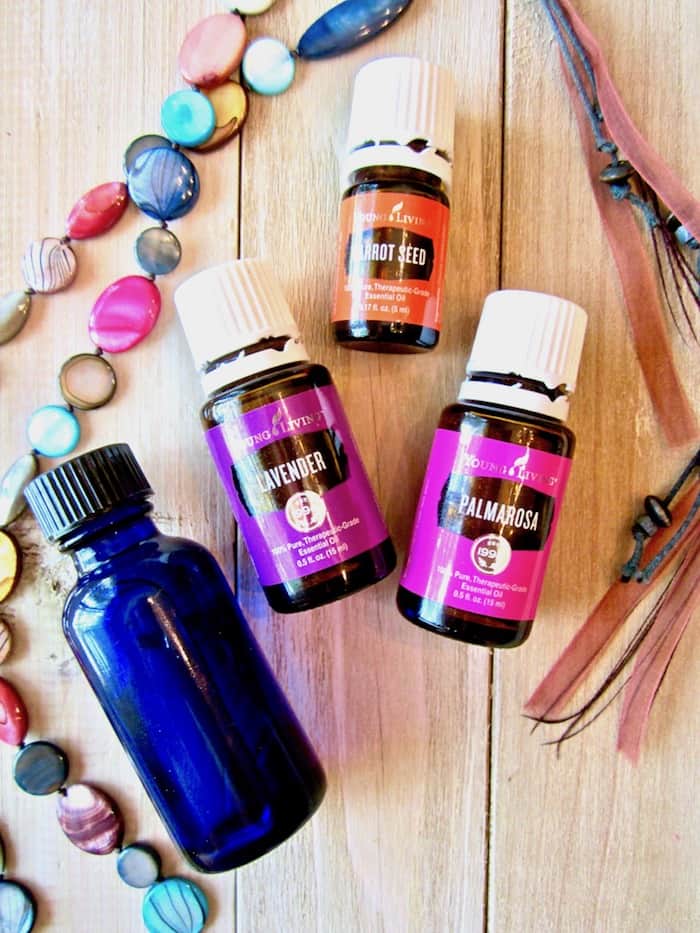 Sarah Newman, Vegan Chickpea
DIY Vegan Face Moisturizer with Essential Oils
Add this DIY Vegan Face Moisturizer with Essential Oils into your daily regimen for a homemade, cruelty free and customizable alternative to standard (and often toxic!) beauty products. Say goodbye to harsh chemicals and expensive skin care!
5 minPrep Time
5 minTotal Time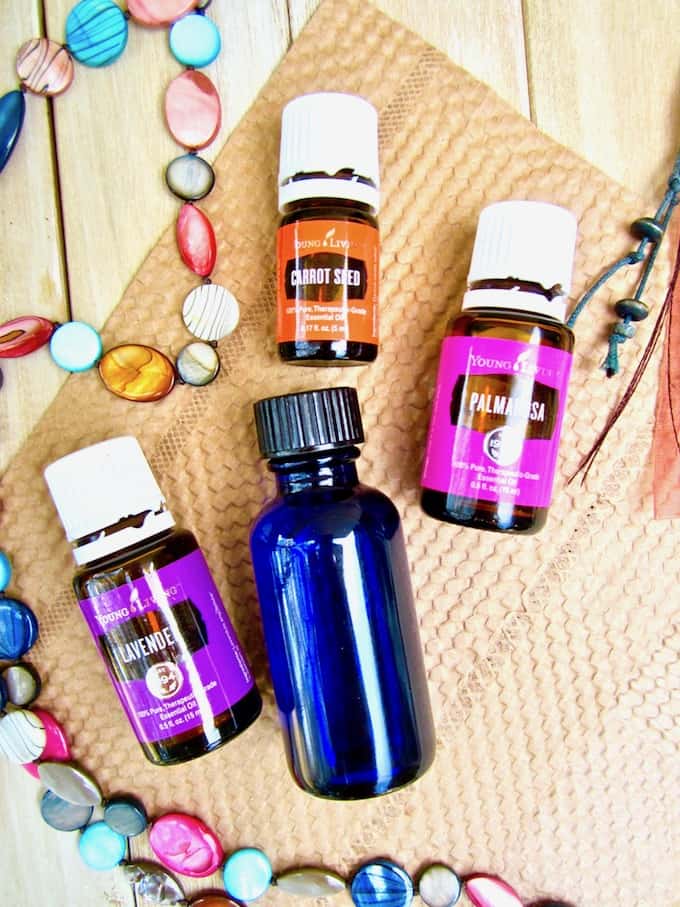 Ingredients
1 1-oz. glass bottle - ideally a dark color like blue or brown to protect against light
2/3 oz. carrier oil of choice - avocado, argan, jojoba, grapeseed, hempseed, sweet almond
5 - 10 drops essential oil(s) of choice - I used 5 drops of lavender and 3 drops of palmarosa
3 drops carrot seed oil (optional, for added skin rejuvenation)
Instructions
Mix all oils into the glass bottle. Start with just a few drops of the essential oil(s) - you can always add more!
Shake the bottle to combine. You want to smell the scents but not have the smell be overpowering.
Apply 3 -5 drops to clean hands. Rub together and gently dab onto a clean face.
Store in a cool, dark place. Lasts about 8 - 12 months.
7.8.1.2
60
https://veganchickpea.com/vegan-diy-face-moisturizer-with-essential-oils/
Sarah Newman, SKN Creations
---
Disclaimers:
1) This post contains affiliate links. If you make a purchase on Amazon after clicking one of my links, your costs stay the same but I receive a small commission to help support Vegan Chickpea. Thank you for your support!
2) These statements have not been evaluated by the Food and Drug Administration. This information is not intended to diagnose, treat, cure, or prevent any disease. The information on this site is not intended or implied to be a substitute for professional medical advice, diagnosis or treatment. Please confirm any information obtained from or through this web site with other sources, and review all information regarding any medical condition or treatment with your physician. Never disregard professional medical advice or delay seeking medical treatment because of something you have read on this website.