This vegan superfood guide includes a superfood list, their benefits, recipes with superfoods and how to create a delicious, healthy, customized superfood smoothie bowl!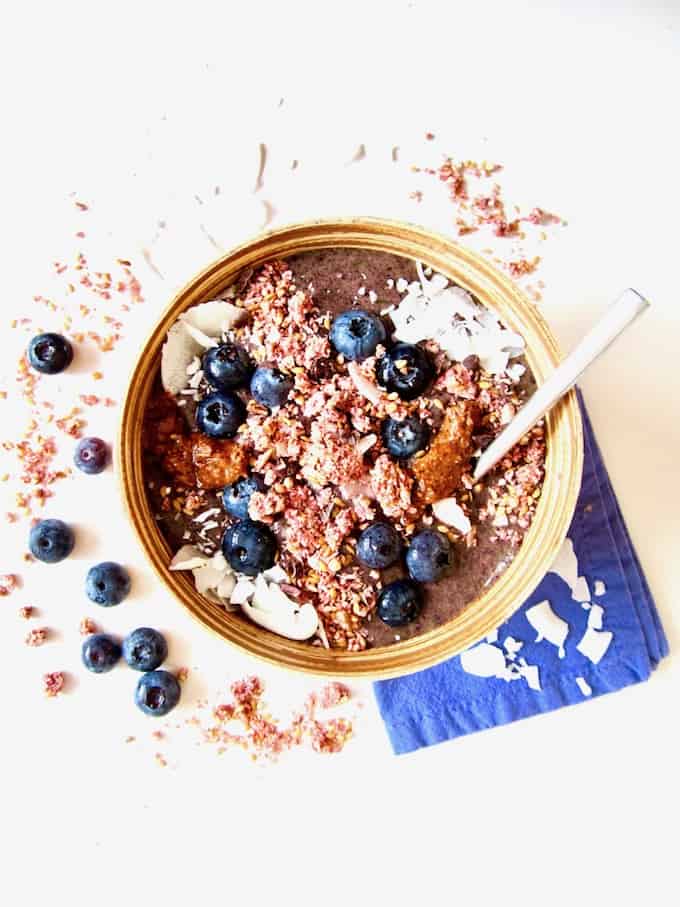 I planned to post this recipe back in August. AUGUST! Two whole months ago! Umm, how did it get to be OCTOBER already?! ?? *scratching head*
Anyway, I have been jumping on the superfood train recently. Anyone else?
These nutrient rich foods are some of the best things we can put in our bodies, so I've been making an intentional effort to incorporate them more into my meals, especially at breakfast since it's an easy one to add some extra fruit, powder or supplements into (think smoothies/smoothie bowls, swirled into non dairy yogurt, sprinkled on top of fruit, in chia pudding / chia porridge – you get the idea!).
Read on for a superfood list, including their benefits, recipes and for a special discount on my favorite superfood berry powders grown in the pure arctic land of Finland!

So what are superfoods anyway?
Put simply, superfoods are foods that stand out in terms of their nutrient content. In a sense, all plants could be considered superfoods since they provide us with the nutrients we need to thrive, and all whole foods tend to have the highest amount of nutrients.
Still, the label 'superfoods' has become trendy and indicates those top performing foods that really pack a nutritious punch. The profiling varies across different methodologies and opinions, but typically nutrient density is calculated in relationship to the percentage of the Recommended Dietary Allowance (RDA) of each nutrient provided.
These foods are filled with antioxidants that are anti-inflammatory, alkalizing and balancing. Research is showing their ability to reduce the risk of cancers, cardiovascular disease and other health ailments.
Superfood List:
RECOMMENDED SUPERFOODS:
      

---
---

Vegan Superfood Smoothie Bowls
To make a superfood smoothie bowl, you essentially just take any combination of the above superfoods and add them to your blender with a little non dairy milk of your choice. If you want to enhance your smoothie with extra delicious goodies on top like in the photo and eat it with a spoon, then make sure to keep the consistency thick by not to adding too much milk and using thickeners like flax seeds, chia seeds and superfood powders. Frozen fruit also helps create a nice thickness to the smoothie bowl.
In this superfood smoothie bowl I opted for:
maca – a malty flavored root from South America that is antibacterial, enhances adrenal glands & increases energy
spinach – loaded with iron, calcium, magnesium, potassium, vitamin K & fiber
cinnamon – improves glucose and lipid levels (great for diabetes and hypoglycemic management) as well as improves sore throats, arthritis & coughs
hemp milk – hemp seeds are a complete and easily digestible protein, with all 20 known amino acids, as well as filled with omega-3s & omega-6s
flaxseeds – great for heart health, reducing inflammation, easing arthritis & filled with omega-3s
blueberries + bilberry powder – a low sugar fruit that is high in fiber, antioxidants, and great for blood sugar regulation, stabilizing & strengthening blood vessels
(Source for these nutrition facts: Healing the Vegan Way by Mark Reinfeld)
Do you feel like superwoman (or man) yet??
Toppings:
On top I added a touch of almond butter, cacao nibs, raw granola and chia seeds for extra superfood powers. Here I used Kool Organics raw sprouted Mixed Berry granola, which is some of the best granola I've had without ANY sugar (which is nearly impossible to find)! They are a local company based in Amsterdam so unfortunately their products aren't widely available, but I loved discovering them when I was living in The Netherlands.
In the USA, my favorite no sugar added granolas are Go Raw's Sprouted Granolas, or – if you want to indulge in a little coconut sugar – then the Purely Elizabeth brand (any flavor!) is downright delicious and worth every bite. Of course, you can always make your own granola, like this Healthy High Protein Grain Free Granola!
---
---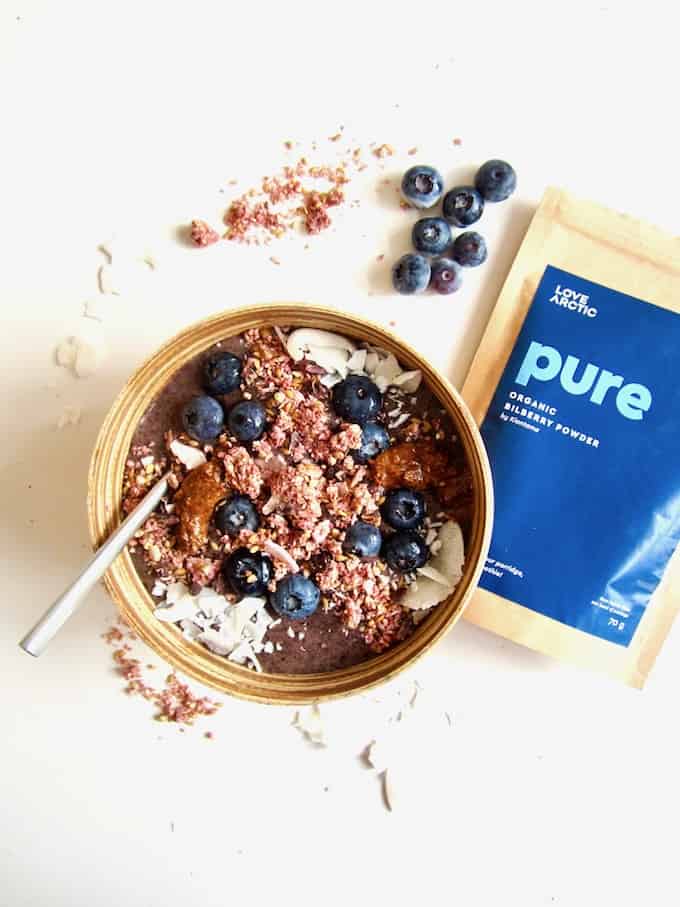 LOVE ARTIC SUPERFOOD BERRY POWDERS + A DISCOUNT FOR YOU!
One day I stumbled upon Love Arctic's Superfood Organic Berry Powders on Instagram. I was immediately intrigued and curious about their colorful products that are mega healthy and ultra pure.
I reached out to Saara, the owner, and she delightfully sent me all four of their Superfood Berry Powders to try back when I was living in The Netherlands. I was seriously blown away at the freshness of these powders! I taste tested them all with a few friends and we all four agreed that we could feel the pure vitality in the powders – not to mention that they were all super tasty too (and smelled like Fruity Pebbles cereal, but in an upgraded, healthy, good way!). ?
Sometimes when I buy supplements or superfood powders the quality of the product just doesn't feel in tact, like it went through some extra processing that takes away from the pureness of the food. Happily, this wasn't the case with Love Arctic! It was as if the berries had just been picked off the bush, dehydrated and ground up right there.
Love Arctic has four organic and raw berry powders to choose from. I honestly love all of them, but if I had to pick I think the bilberry and sea buckthorn are my favorites.
PURE – bilberry
STRONG – sea buckthorn
CRISP – lingonberry
FRESH – blackcurrant
1 Tbsp of the powder equals a handful of fresh berries!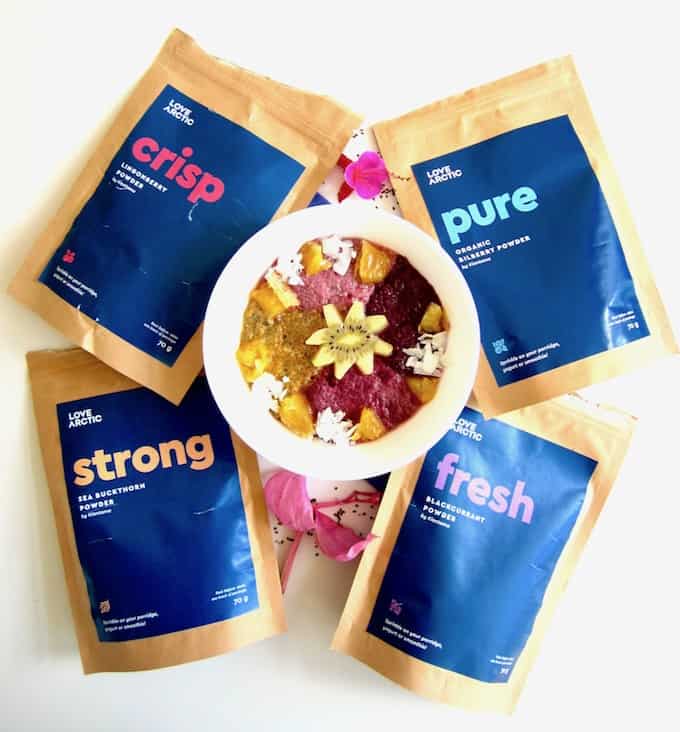 (Pictured above: I made chia pudding with each of the 4 flavors in one delicious bowl topped with kiwi, orange and coconut – talk about a fresh jolt of superfood power!)
Now for the great news? I have a coupon code for you if you want to try these powders yourself! The bad news is that right now, Love Arctic only ships to Europe – but they are hoping to change that soon! So for my European friends, I know often you can't order certain products you hear us talk about in North America, but this time, I'm pleased to share with you high quality products that you can actually order this time, woohoo!
---
---
What are your favorite superfoods to add into your day? Let me know in the comments below! 

Sarah Newman, Vegan Chickpea
A Superfood Guide + Vegan Superfood Smoothie Bowl with Maca & Blueberries
In this vegan superfood guide, learn all about superfoods and how to create a delicious, healthy, customized superfood smoothie bowl!
5 minPrep Time
5 minTotal Time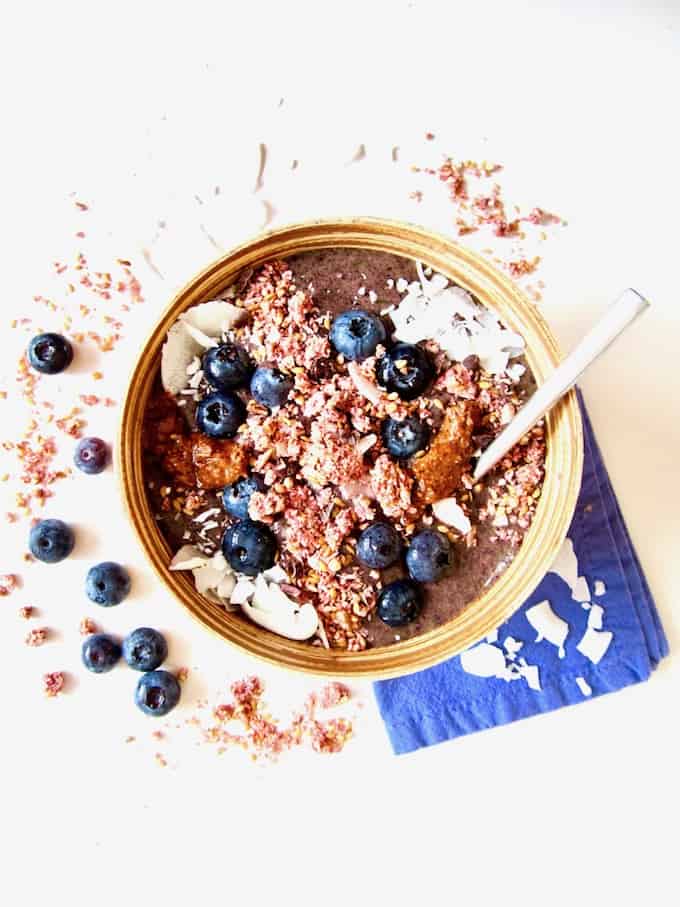 Ingredients
1 frozen, ripe banana, cut into pieces
1/4 cup frozen blueberries
1 cup tightly packed fresh spinach (a large handful)
1/2 cup hemp milk (or any non-dairy milk)
1 Tbsp maca powder
1 Tbsp ground flaxseeds
1 Tbsp Love Arctic Bilberry Powder
1/2 - 1 tsp ground cinnamon
1/8 - 1/4 tsp ground cardamom

OPTIONAL TOPPINGS:

granola, blueberries, other berries, nu butters, shredded coconut, chia seeds, cacao nibs, chopped nuts
Instructions
Blend all main ingredients together.
Top with any of the optional ingredients. Enjoy!
Notes
VARIATIONS: You could add in a protein powder of your choice as well. You can swap out the bilberry powder for any other superfood powder (wheatgrass, spirulina, etc.)
7.8.1.2
68
https://veganchickpea.com/superfood-list-superfood-smoothie-bowl/
Sarah Newman, SKN Creations


---
This post contains affiliate links.  I only post links for products I personally use and believe in. If you make a purchase on Amazon after clicking one of my links, your costs stay the same but I receive a small commission to help support Vegan Chickpea. Thank you for your support!